Page 2 of 2 •

1, 2

Blue Devil Knight wrote: Would they say it is less important to keep a coordinating piece if you have the two Bishops? I want more about this!
Some words are in John Watsons Secrets , Chapter: Folklore or Reality?
Club Player





Posts

: 44


Join date

: 2009-06-28


Location

: Mannheim / Germany



I just covered this material yesterday (Although now I think maybe I was supposed to take Test 1 first) - I've played for 10 years now off and on (with an online rating that went from 1200 to 1700) and I've never heard of the "play coordinating piece". But after the lesson, It makes a lot of sense and I am excited to learn more new ideas.

I have not memorized the PME table yet. I think I will get the pieces out on a board and drill myself the equivs that way.
Learning the Rules





Posts

: 2


Join date

: 2009-08-21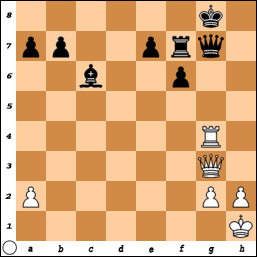 A good example of PME combined with activity that just arised in one of my games today (i was black).
It is evaluated as 0.00 by Rybka, finely balanced equivalence.
As noted in the piece value document Q ~ R+B+1P this is what we have here.
Anyway the natural move RxQ happens to be a blunder because 2 white pawns (near the king) will fall and B+R+3P will have enough activity to force a technical win against a lonely Q.
Of course the Q will eventually grab some black pawns, but too late to defend against promotion.
This is what happens in the game, my opponent took, and i won. It was not easy, but not too hard though, it just took me plenty of time because i had to be careful.

__________________________________________
Never give up, never surrender.
International Master





Posts

: 371


Join date

: 2009-04-21



Interesting position, but I'm not so sure that Rybka is seeing it as a PME with the 0.00 evaluation. Looking at the position in multi-variation mode Kg1 is the only move to draw.

The evaluation functions seem to recognize Black as winning, probably as a result fo the qualitative value of the Black pawns as you so state. So it goes for any repetition of moves it can find, exploiting the exposed position of the Black King.

It's also interesting to look at the position with Black to move. White is slaughtered after 1...QxR because of the pooly placed White King on h1. That might have been enough to give a clue the Kg1 is the only move.

Very instructive position, thanks for sharing.
International Master





Posts

: 379


Join date

: 2010-08-05



Yep, it was not clear when i read my post again.

Indeed Kg1 has to be moved first and the QxR exchange after, and we are in equivalence, more or less drawish with perfect play.
(thus the engine goes for repetition checks, since it is a simpler and safest way to get this draw, engines are not interested in taking risks to maybe win).

If the QxR echange is done before, then it leads to pawn advantage for black and a disaster for white.

The PME helps to take the decision to delay the exchange in order to be in a favorable Q ~ R+B+1 rather than in a Q < R+B+3P situation. My opponent though Q itself could sustain all pieces, and surely Q+R+2P would have been a challenge, but with 3P it's not possible.




__________________________________________
Never give up, never surrender.
International Master





Posts

: 371


Join date

: 2009-04-21



Page 2 of 2 •

1, 2

---
Permissions in this forum:
You
cannot
reply to topics in this forum