While practicing tacticals with
ct-art,
i found this very interesting position, fitting very well in the ICS pawn lessons.
It is white's turn, and one may think that the position is hopeless since the bishop will have difficulties to hold the position on the queenside against the rook, even if white has some pawns up.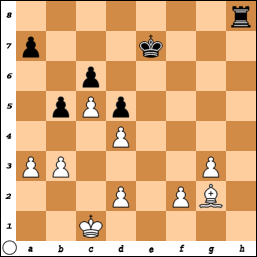 In fact, white can improve his position by eliminating all the weak squares.
This is done by :
Kd1, Rh2
Ke1, Rxg2
Kf1, Rh2
Kg1, Rh3
Kg2 ... chasing the rook which happily ate the bishop.
Then move pawn f2-f3 closing the position.
Eventually after a-pawn move this lead to diagram below :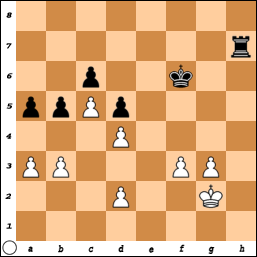 You can notice that the bishop sacrifice is not an issue, since there is no way for black to enter the position. All sqaures in front of the pawns are guarded, and the d2 pawn guard the critical entrance square e3.
Whatever black do white only has to move his king on the f1,f2,g1,g2 squares and it is a fine draw.
(eventually move a4 or b4 if black try to break through).
I'm very impressed by this position illustrating the power of pawn structure.
Would you have figured out this solution ?

I tried to with chess engines, they all are unable to see the drawish nature of the position...


__________________________________________
Never give up, never surrender.
International Master





Posts

: 371


Join date

: 2009-04-21



Very Interesting, no i would not have figured that one out. Thanks for sharing
Learning the Rules





Posts

: 5


Join date

: 2009-11-01



Intresting, i wouldn't have thought to sacriface my bishop.
National Master





Posts

: 202


Join date

: 2009-04-17


Age

: 46


Location

: Aarschot, Belgium



It's funny I knew the solution instantly, but there is no way I would have worked it out. I have never used ct-art but clearly I have seen this position somewhere before as soon as I saw it I knew that Ke1 followed by Kf1 was the way to go.

Weird, now I'm going to have to remember where I saw this. Gut feeling is telling me Yasser Seirwan so maybe its in one of his Winning Chess books. I will have to dig them out and have a look.

Good to know I've subconsciously absorbed something though!
International Master





Posts

: 269


Join date

: 2009-04-18



Amazing draw!! No I would not have figured that out.
__________________________________________
Content will be assimilated.
Resistance is futile.
----
Blue Devil Knight wrote:The danger of studying positional chess at the expense of tactics is that you will spend a half hour thinking about where a Knight belongs, and then proceed to put it on a beautiful square where it is en prise.
Grandmaster





Posts

: 632


Join date

: 2010-07-06


Location

: Adelaide




---
Permissions in this forum:
You
cannot
reply to topics in this forum